This amazing 1869 lighthouse is located in Saugerties, New York, about an hour south of Albany and two hours north of New York City.
It was converted into a bed & breakfast, so if you happen to be in New York state, you can stay overnight in this neat old lighthouse.
It is set at the mouth of the Esopus Creek, in the Hudson River. The light tower was automated and destaffed in 1954, but was again put into use in 1990 and remains operational today.
It is now listed on the National Register of Historic Places and the Saugerties Lighthouse Conservancy maintains the property and surrounding lands.
The lighthouse still has "keepers" but they mostly serve as inn-keepers for the B&B. It is wonderful to read about the affection and enthusiasm that local people (and visitors) have for this unique place.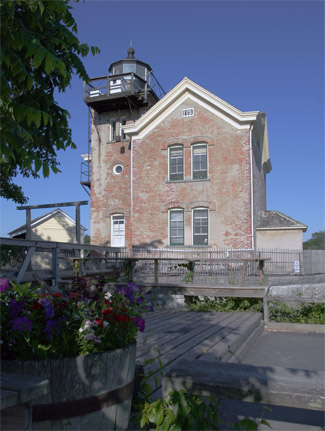 I fell in love with this building the second I first saw it. In fact, it sort of reminds me of my own house with the washed-paint brick on the exterior.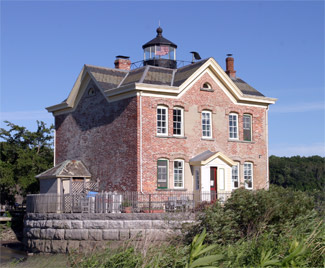 The inside of the Saugerties Lighthouse is just as impressive.
Have a look:
LOVE the upright antique wood stove!
This place was decorated with a keen eye for historical detail…
Check out this vintage kitchen with exposed brick walls!
The painted wood floors are delightful. As are the distressed-painted cabinets… I wonder if they are original to the structure?
Views out every old window:
One of the soothing bedrooms:
More of the enchanting exposed brick walls and painted wood floors…
I think that a stay in this converted lighthouse would be extremely peaceful and pleasant… like stepping back in time (before cell phones and laptops).
There is even a small on-site museum which has maritime artifacts on display:
Huge kudos to the keepers, restoration professionals, volunteers and conservators who have loved this place back to life. They have done a tremendous job.
For more details, history, and many more photos, please see the Saugerties Lighthouse site.