I came across a listing for this glorious monolithic dome house in Conifer, Colorado the other day and it looked awfully familiar. I swear I saw this house on HGTV at one point in time.
Anyway, it is for sale and it is AMAZING.
What is a dome home you ask?
Basically, there are two types of dome structures, the geodesic dome and the monolithic dome. Geodesic domes were first patented in 1951 by the mathematician/engineer/poet Buckminster Fuller. Geodesic domes are essentially large spheres built from smaller triangular panels on a steel frame. You can buy pre-fab kits from companies like Timberline Geodesics. Geodesic dome structures are very easy to spot because they are big round balls made of interconnected triangles: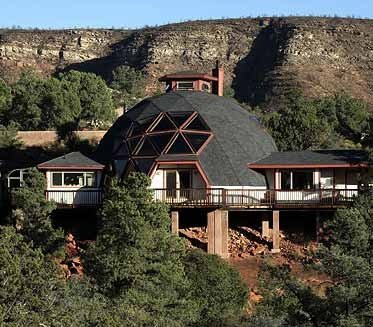 Very geometric-looking. Very high-school geometry class.
Monolithic domes, on the other hand,
…are constructed following a method that requires a tough, inflatable Airform, steel-reinforced concrete and a polyurethane foam insulation.

From: monolithic.com
To use a simple analogy that my two-year-old can understand: you blow up a big balloon and cover it with paper mache. [Actually, the goop & concrete gets applied on the inside, and it's a lot more durable than paper mache.] But you get the gist of it.
Monolithic domes have a smoother shell and appear more organic and sculptural than geodesic domes.
Both types are popular in Colorado and you see them often, sometimes even in urban settings. They are apparently resistant to earthquakes, tornadoes, and hurricanes, though we rarely have any of these in Colorado. Dome homes, however, are said to be the most energy-efficient structure known to humans due to the spherical nature of them – resulting in one-third less surface area of the outside walls than a conventional box-style house. Hence, they greatly conserve energy costs for heating and cooling.
…which works out well in the mountains of Colorado.
The dome house in Conifer boasts 4049 square feet of solar-powered, off-grid, mountain-side living:
PLUS a dome garage:
"Hand-crafted by master builder John Zimmerman", this monolithic dome is certainly resplendent inside and out. The south-facing bank of windows is spectacular:
You can read a detailed description of this Conifer dome home from the owners here.
In 2008, we went to see a dome house south of Pueblo, Colorado. It wasn't for sale – the owners just opened it up to the public one weekend for tours so they could tout the virtues of dome living. The house is actually 6 interconnected domes plus a dome garage. And the place is beautiful. We brought my son – who was 3 at the time – and he was just thrilled to run full-throttle through the "big bubbles". The owners, Ray and Beth Merrell, were very gracious and answered many questions from the endless stream of curious look-i-loos.
For more reading about dome homes, check out this yahoo real estate article by Erika Riggs.
I think the concept is a no-brainer – even though it was invented by a mathematician – and the aesthetics are just sumptuous. With the housing crisis and all the natural disasters we have been having on this planet, perhaps the dome house design will catch on for the masses.
Someday, our towns may look like this:
Until then, most of us will continue to live like bourgeois fools in our inefficient quadratic shoe boxes, myself included. *sigh*