One of the earliest examples of a wheelchair accessible home in the United States was none other than Franklin D. Roosevelt's Top Hill Cottage in Hyde Park, New York.
Also known as "Top Cottage", the retreat was actually designed by F.D.R. himself along with an architect named Henry Toombs. It was specifically designed to be wheelchair accessible, one of the first of its kind in architectural history.
Additionally, the house is thought to be the first significant building designed by a person with a disability, according to Wikipedia.org.
Roosevelt was a famous survivor of polio paralysis (or what some medical experts now believe may have been Guillain–Barré syndrome) and he used a wheelchair for mobility – especially in the later years of his presidency. He was careful, however, to never be seen in public using a wheelchair due to the stigma associated with disabilities back in the first half of the twentieth century.
F.D.R. used leg braces and personal aides to support him when he had to make a public appearance.
The getaway cottage was built in 1938-39 during Roosevelt's second presidential term as a place where he could hide away from the pressures of Washington D.C.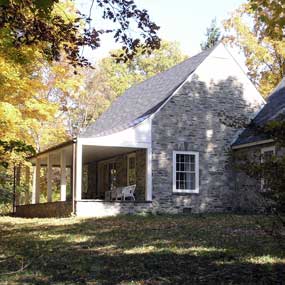 Top Cottage was designed by FDR to emulate the Dutch colonial architecture found throughout the Hudson River Valley.

– from: http://www.nps.gov/hofr/planyourvisit/top-cottage.htm
Despite being a private retreat, Top Cottage also hosted some famous guests including Queen Elizabeth and many of F.D.R.'s political allies.
Built of fieldstone, the cottage was strategically located on the top of a hill where Roosevelt actually played as a child. It is now part of the nearby Home of Franklin D. Roosevelt National Historic Site. Members of the public can take a guided tour of Top Hill Cottage.
Here's a sketch of the cottage floor plan apparently drawn by F.D.R. himself:
After F.D.R.'s death in 1945, his son Elliott Roosevelt lived in the cottage and eventually made some renovations like adding the dormer windows and a mud room. The cottage was later sold as a private residence and remained so until it was acquired by the Open Space Institute in 1996.
Top Hill Cottage became a National Historic Landmark in 1997.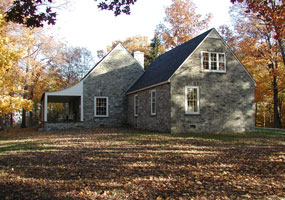 ~~~~~~~~~~~~~~~
Source material on Top Hill Cottage:
http://en.wikipedia.org/wiki/Top_Cottage
http://www.nps.gov/hofr/planyourvisit/top-cottage.htm
http://en.wikipedia.org/wiki/Franklin_D._Roosevelt
 ~~~