Everyone knows that Napa Valley, California is home to some fine wines. And it makes sense that it is also home to some fine estates.
In their book Napa Valley Style (2003), Kathryn Masson and Steven Brooks take us on a delightful tour of some extraordinary homes around the storied vineyard region.
I read this book a couple of years ago and it has stayed with me ever since. The author & photographer team did an excellent job of showcasing both large villas, hillside cottages and historic homes.
The book is vivid and the homes featured are, well, yes, excessively decadent. It is enjoyable to have a peek into such fine estates (the likes of which my common feet will never touch… unless I win the lottery or something). But I found the homes I most enjoyed were the smaller cottages.
Still exquisitely decorated, with lush, sprawling yards, these cottages just seemed cozier to me – and more livable. Much of the appeal of any of these places is their sublime settings often overlooking (or right on) a vineyard.
I actually purchased this book at a local winery right here in Canon City, Colorado. [Yes! They make their own wine at the Holy Cross Abbey, and sell other Colorado-made wines.]
But you can also purchase Napa Valley Style online at Amazon.com for new or used prices.
The book is already almost a decade old (first published in 2003) and there have been many books published since then on Napa architecture, Napa style, and Napa design. But this book claims to be the first of its kind – at the time of publication.
I recommend it for the armchair tour that it provides of one of the most impressive zip codes in America. The experience might even be enhanced with a glass of California cabernet.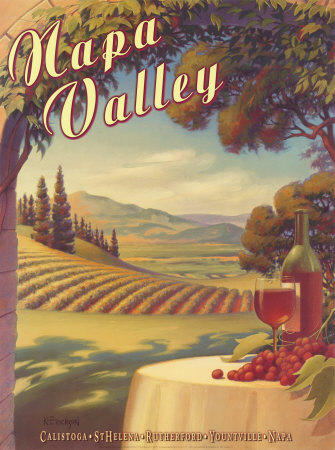 ….Or not. I read it when I was sober and it was still pretty darn impressive.
-Sarah